Brides and Grooms in Bloom
Taking a Look Back at Today's Married Couples' Wedding Day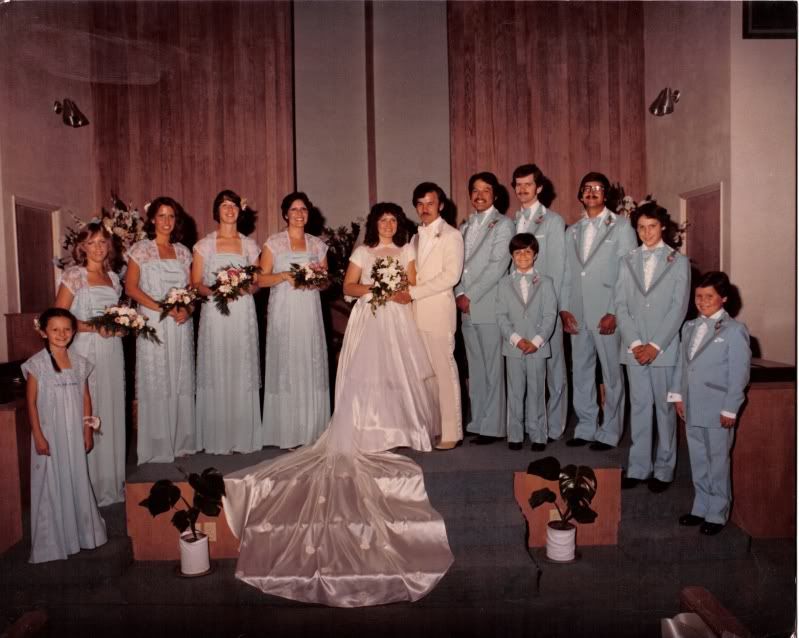 Tina & Jim on their wedding day. What a bridal party!
I would like to introduce to you Tina and Jim Leeper and coincidentally they are my Aunt and Uncle. This year they will celebrate their 29th wedding anniversary and I have asked them to be a part of our blog series ::
Couple Names
:: Jim and Tina Leeper
Children's Names and Ages
:: Jennifer Patel (25 - married) Johanna (22)
Date Married
:: June 28, 1980
Years Married
:: almost 29
Ceremony Location
:: Belleview Baptist Church, Bakersfield, CA
Reception Location
:: Same
Total amount of Guests
:: around 80-90
Budget spent on wedding
:: $500 - $1000
Q :: What was the most memorable piece of your wedding?
A :: I can't narrow it down to just one, so here are two ::
1) My wedding dress was the dress my mother had made for her sister many years earlier. My mother died when I was six, so having the opportunity to wear the dress was like having her with me on that important day.
2) I sang the song "Longer" to my husband during the ceremony, with the help of my best friend, Gayle and some friends from college.
Q
:: What was the one regret you had on your wedding day?
A ::I wanted to observe the tradition of not letting my husband see me before the wedding ceremony, so we didn't take pictures until after it was over. The photographer took so long, that many of our guests left before we could greet them. My advise is phooey to the tradition...take your pictures before hand.
Q
:: Who planned your wedding?
A ::Mostly my eldest sister, Betty and a friend from church, Arlene Nystrom, who is now deceased.
Q
:: What was your favorite part of the planning?
A :: Having my sister's help. I was a college student, and was so busy with school. My sister's help was a blessing. I would have been totally overwhelmed without her.
Q
:: If you could change one thing from your wedding experience what would it be?
A :: I wish we could have afforded to have a sit down dinner, or at least food of some kind. We were young and had hardly any money. We only had cake and punch.
Q
:: What is the one thing most you like about being married?
A :: The comfort of having someone I know I can count on, who will always be there for me.
Tina & her Dad posing for a quick shot. Photographers, check out the effect!
Am I counting 2 brides? I think I am...whoa.
Q
:: What's your one piece of advice to newlyweds?
A :: Compromise! Don't be stubborn. Someone has to be willing to give in. It's not always about who is wrong or right, but about going forward and making the situation better. Having faith in God has gotten us through the bad times.
Q
:: Any additional comments, stories or advice to share?
A :: Forget about my advise, take God's. Read more in the good book :: Ephesians 5: 22-33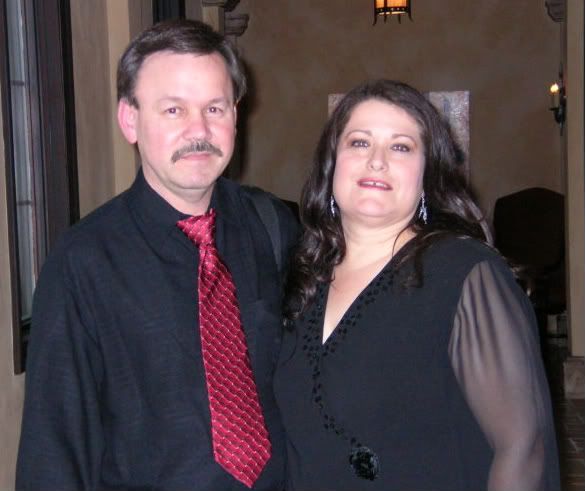 Uncle Jim & Aunt Tina almost 30 years later. Love it! Love them!
If you are interested in showcasing your wedding day or know someone else that might please feel free to email us for the questionnaire. It's an awesome opportunity to share things you would have done differently or things that you down right loved and want to let other brides know about. We would love to hear from you and share them with our readers.
Thanks to Tina & Jim for sharing their wedding pictures and thoughts. It's so interesting to hear different perspectives when planning your wedding, isn't it?
With all that Life has to offer,
Cicely